Esports students have started learning in their brand-new bespoke gaming room at Reading College.
The room features state-of-the-art equipment for playing, analysing and shout-casting. It was designed with the British Esports Association and Endpoint Esports Ltd.
The students have begun to put their skills to the test by taking part in competitions against other colleges.
What the students think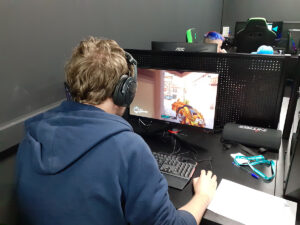 Alex is studying an Esports, Enterprise and Entrepreneurship Level 3 Extended Diploma at Reading College.
He said: "The college has worked really hard to give us the state-of-the-art facilities that we need. I think we're incredibly lucky to have it. The equipment is very good – these are by far the best computers in the college and it's nice that we solely have access to them at the moment.
"Every Wednesday, we compete against other teams. For now, that's to qualify and the team with the highest points moves to the next stage. At the moment we're trying to form teams and work out how to improve. Hopefully one of our teams will improve and manage to get through."
Thomas Garner, Esports Teacher at Activate Learning said: "Students are already engaged with the content and our Esports room is ready for the competitions.
"The equipment is to their satisfaction, which I'm happy about."
Why study Esports
The new Esports, Enterprise and Entrepreneurship Level 3 BTEC Extended Diploma equips students with the skills to progress into the business of competitive gaming, coaching and event management.
It involves an introduction to Esports and how it began in competitive online gaming. The course encourages learners to explore all areas of the industry including entrepreneurship, health, wellbeing and fitness for Esports players and events management.
Learners are also able to specialise in other modules including shout-casting, branding, video production and games design.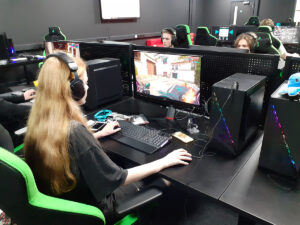 The two-year qualification is equivalent to three A Levels. On completion of the course, learners can progress into higher education or pursue a career as a competitive player, coach or promoter.
Esports is a rapidly growing industry with events watched online and attended by millions of viewers.
The popularity of Esports has increased during the coronavirus pandemic as fans cannot attend sports fixtures due to the requirement for social distancing.
Recent examples include Premier League players participating in competitive FIFA tournaments and F1 drivers regularly streaming iRacing on Twitch.
Discover our Esports, Enterprise and Entrepreneurship Level 3 Diploma or contact us via 0800 612 6008.