Still the most popular route to get into university in the UK; get the UCAS points you need to apply with our exciting new route to success. 
Our A Level Centres provide an environment where everyone can reach their potential. A comprehensive and challenging curriculum fosters motivation and encourages success, with an interactive and creative approach to learning.
From September 2024, we will be introducing a 3-stage A Level pathway, to provide learners with the opportunity to progress from their GCSEs and achieve their goals.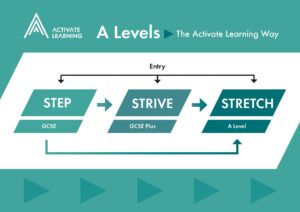 We understand that there are many reasons why some students don't achieve the GCSE grades that they hoped for. Our mission is to ensure that everyone has the opportunity to achieve the results that they are capable of and successfully progress to their chosen pathway.
Students can choose from a broad range of A Level subjects, with multiple options for Applied/Vocational style study available, and GCSE programmes that are designed to support the development of academic and personal skills to allow learners to step-up to the next level of study.
All of our pathways are underpinned by regular and varied employer engagement opportunities and experiences, achieved through partnership arrangements with local universities and employers.
STEP (GCSE) – especially for students wishing to retake GCSEs, with grades of mostly 3s. You can choose from several pathways to suit your interests and aspirations and progress to employment, an apprenticeship, or a range of courses, including A Levels. Full-time, one-year programme. 
STRIVE (GCSE Plus) – a new entry point for students with grades of mostly 4s. An opportunity to boost grades before A Levels or other level 3 courses It will comprise of mostly GCSEs at higher tier level, with the additional opportunity to experience Level 3 study with an AS Level or Applied equivalent. This course will equip learners with the academic skills and attributes required for success on a full A Level pathway, T Levels, or other higher-level study.  Full-time, one-year programme 
STRETCH (A Level) – our A Level Programme for students with a minimum of 5 GCSE grade 5s, plus individual subject criteria. A broad range of options are available at each campus. Full-time, two-year programme.