Friends, families, teachers and special guests celebrated the achievements of Reading College students with learning difficulties and disabilities as part of a special award ceremony.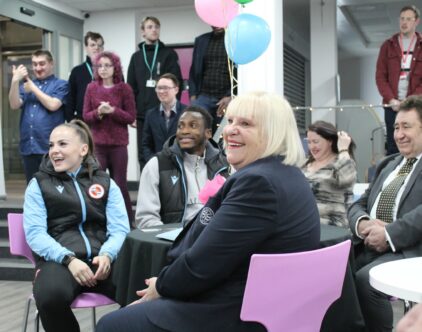 This was extra special, as it was the first time that the college had been able to host the awards ceremony since the COVID-19 pandemic.
It was an opportunity for students to celebrate their success on their course and recognise their achievements at college.
Students who had completed their LASER qualifications received a specific certificate.
Students who have been attending our ACE programme, received attendance certificates. ACE is a part-time adult programme which provides opportunities for people aged 23 and over to improve their social and independence skills, after full-time education has finished.
Reading Football Club players presented the certificates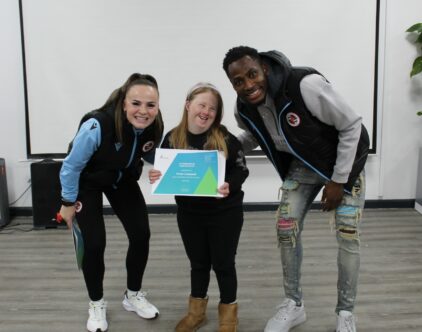 Special guests Baba Rahman and Lily Woodham, who both play for Reading Football Club, presented the certificates to the students.
Entertainment was provided by some of the students, who performed during the evening including Tom, who sang For the Dreamers from Back to the Future The Musical. Two groups of students also performed Something Just Like This by Coldplay and It Must Be Love by Labi Siffre.
Congratulations to Lara!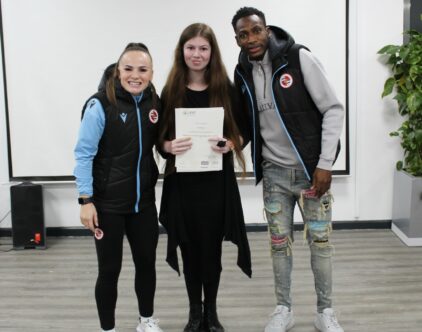 Lara Harman is studying the Work Preparation Horizons programme at Reading College. She received a certificate for completing her LASER Award.
She said: "It was nice to receive a certificate. It was cool to see what awards you could get.
"It was nice to see everyone in formal attire. My mum and dad came, which was nice.
"It was nice to have my picture taken with the two footballers from Reading Football Club."
We're really proud of all our students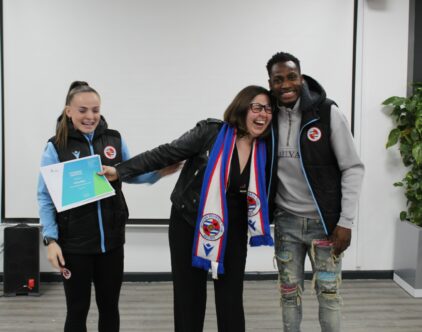 Julie Kennedy, Director of Curriculum at Activate Learning, said: "We are really proud of all our students who received certificates and took part in the ceremony.
"It was lovely to see so many of our students' families come along. Thank you to Baba Rahman and Lily Woodham, from Reading Football Club, for presenting all the certificates.
"Thank you to all of our staff who made this presentation evening, possible for our students."
Discover programmes for learners with learning difficulties or disabilities at Reading College or contact Activate Learning on 0800 612 6008.