A professional culinary arts student from Reading College has been crowned the Young Risotto Chef of the Year 2021!
Orin Perry cooked a delicious seafood risotto incorporating mussels and prawns alongside Parmesan and Gouda cheese.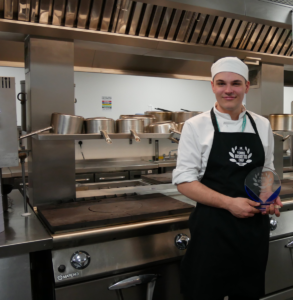 The final took place virtually on Wednesday 21 April and the winning dish was judged by Italian pasta tutor and author, Carmela Hayes.
Carmela then passed her feedback onto the rest of the team at Riso Gallo, who sponsor the annual competition.
All of the contestants were given a time restriction of one hour to cook their dish in the final.
As part of his prize, Orin will now do a three-day work experience placement at Heston Blumenthal's The Fat Duck restaurant under the expert tutelage of Head Chef, Ed Cooke, as soon as it is safe to do so. His work experience will include a tour of the restaurant and kitchen. He will also work on the passe and in the pastry kitchen.
The Fat Duck restaurant, which has been awarded three Michelin stars, and whose founder Heston Blumenthal has worked with Activate Learning to develop our catering curriculum.
Orin, who is studying a Professional Culinary Arts Level 3 Extended Diploma at the Kings Road campus, entered the competition after hearing about it via his lecturer, Simon Genduso.
After learning of his win, Orin said he dreamed of one day working as a head chef or owning his own restaurant in New York.
He added: "I was so shocked as I didn't think that I had a chance."
"I learnt so much in one day with my tutor Simon Genduso, including how to prepare and present it properly. There is a really great team here at Reading College, who are so helpful, and I couldn't have done it without them.
"I can only imagine how much I will learn in a three Michelin star restaurant. I am looking forward to learning new skills on my work experience and meeting influential people."
Simon Genduso, Professional Cookery Lecturer at Activate Learning, said: "I was over the moon when I heard that Orin had won. His win was thoroughly deserved as his risotto was cooked and presented perfectly."
Find out about our Hospitality and Professional Cookery courses or contact us on 0800 612 6008.