Reading College and University Centre welcomed local school pupils, Esports students and Esports professionals to their Women in Esports Day on Friday 26 May.
Pupils from years 9-11 from Highdown School and Sixth Form Centre attended the event at the King's Road campus.
The event was designed to break the stigma of women working in Esports by inspiring and informing female students and pupils that there are many career opportunities for them in Esports.
Sharing stories
The day kicked off with an introduction and icebreaker from Jamie Petersen, who teaches Esports at Reading College.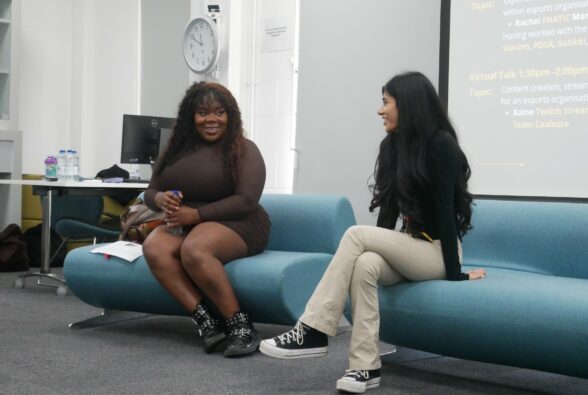 Davina Jethwa, who is a Producer and Creator for Charlotte Tilbury, Content Creator for Women in Games and a producer for ADVNCR and Cassie Hughes, Co-Founder of Black Twitch UK, Director at Nox Lumina and Community Manager at The Noir Network, shared their stories and took part in a panel discussing women in gaming communities and empowering underrepresented demographics, followed by a Q&A session.
After lunch, Rachel Auty, Marketing Manager of FNATIC, who has worked with the likes of Universal, WWF, Viacom, PDSA, Sutikki, the BBC and more, took part in a virtual talk where she spoke about her experience working as a woman in esports and within esports organisations.
Raine, Twitch Streamer and Content Creator for Team Coalesce Esports and Entertainment Ltd, spoke about content creation, streaming and working as a creator for an Esports organisation with tips, tricks and advice.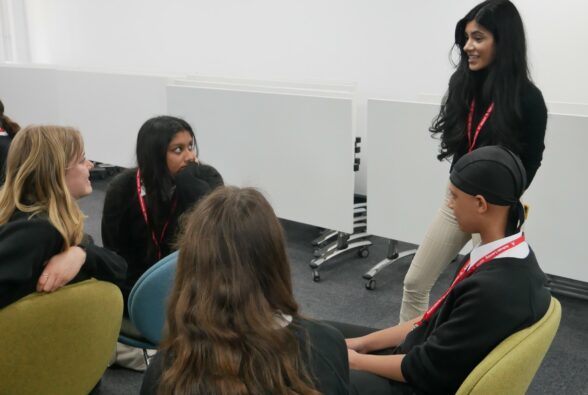 The day ended with some class group activities, to see how much the pupils and students had learnt. The pupils also got to see what facilities would be available to them if they decided to study Esports at Reading College.
Engaging with the younger generation
Cassie Hughes said: "It was really good opportunity for Davina and I to speak to students and young people in the community to get a feel of how they engaged with it and gave us their opinions."
Davina Jethwa said: "Doing talks like these where you're talking to the younger generation is beneficial because we get to educate, let people learn and see that there is a place for them in different ways where it doesn't need to be so negative, especially in a competitive environment."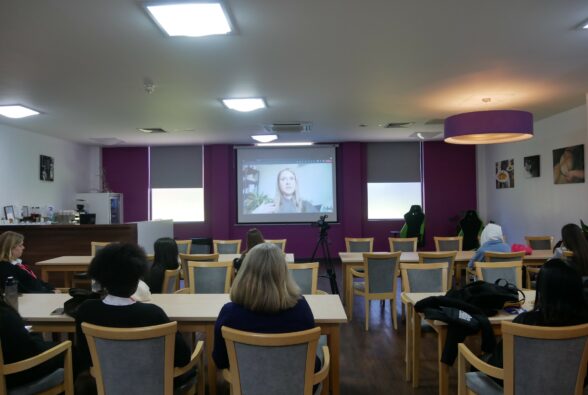 A fantastic opportunity
Elaine Robinson, Careers and Library Support at Highdown School and Sixth Form Centre, said: "This event was a fantastic opportunity for the pupils to hear from women in Esports and hear personal experiences and their pathways into their careers.
"The event also provided lots of opportunities and information on Esports. A big thank you to everyone at Activate Learning for inviting us to this event."
Creating a space for women in Esports
Kieran Palmer, Esports Teacher at Activate Learning, said: "The event was incredible, I'm so thankful to all the guest speakers who made the event more than I thought it would be.
"Esports is a growing industry and to create a space for women is really important as there should be no boundaries.
"At this stage in young women's lives when they are in secondary school and making decisions about what they want to do, a lot of them feel lost but this event is one way of showing them that there are career options in passions they've had when they were young or picked up recently.
"Esports is a wide industry with so many career routes and showing them those routes are available in their passions is incredibly important to shape their decisions and career."
Find out more about Esports courses available at Reading College or contact Activate Learning on 0800 612 6008.