Students from Reading College and University Centre have taken part in a rural fashion project with the Museum of English Rural Life, University of Reading.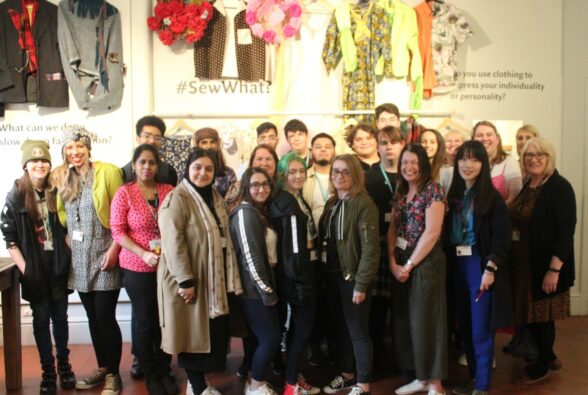 The Supported Learning students were asked to create a range of rural fashion inspired garments and model them in a fashion show as part of the museum's fashion week which took place on 13-21 May.
The students created 18 outfits by upcycling donated fabric and other materials, clothing and home furnishings into new outfits. A piece of carpet became a cloak. Lampshade frames were used to create Royal Ascot ladies' day inspired hats.
Local charity Real Time filmed the fashion show at the museum on Redlands Road, with students also taking part in a photoshoot at the college's campus in King's Road.
This project also provided a valuable work experience opportunity for Hair and Beauty Entry Level 3 students at from the college who did the hair and makeup for both the photoshoot and fashion show.
The project culminated with a gala event where the film was broadcast to students, staff and family members at the museum on Friday 19 May.
Leo Bossman is studying a Work Preparation Horizons programme at Reading College and University Centre. He has been doing work experience at the Museum of English Rural Life where he carried out administration tasks for the project.
He said: "It was great to take part in this project, we worked well as a team and it was so much fun seeing everyone's work completed.
"I really enjoyed modelling the outfits for the photoshoot and fashion show as it allowed me to get into the zone and be more confident. I would love to be a model in the future, it would be my dream job!
"For one of the outfits, I created a poncho with a scarf to go with the rural theme and wore a leaf headband to symbolise working and walking in the countryside.
"It was a great project to take part in because it challenged me and gave me experience for when I'm applying for and being interviewed for jobs. I now have something to talk about at interviews to show employers what I've done.
"It's allowed me to be creative and learn to sew. I felt nervous at first but the more I did it the more confident I became, and it felt more natural. I learnt new skills which will stay with me forever to use in day-to-day life."
Ebonny Lay, a High Needs Teacher at Activate Learning, said: "I'm really proud of the students.
"The project has helped them to become more confident and learn new skills such as hand sewing and using the sewing machine. It was interesting to see the students taking part in the fashion show and photoshoot as we saw a different side to them."
Phillippa Heath, Learning and Engagement Manager, Museum of English Rural Life, said: "A big thank you to all the students and College staff involved in this project. At the museum, we have been exploring fast fashion.
"It has been fantastic to be able to showcase the students' costumes. The fact that these have been inspired by our museum collections and made sustainably through repurposing and upcycling material is inspirational for us all, and a real demonstration of the students' creativity and skill."
Naomi Kozlowski, Hairdressing Teacher, Activate Learning, said: "I'm really proud of my students and everything that they have achieved.
"It was a really good project for them to get involved in, which boosted their confidence, taught them to work as a team and gave them some work experience.
"It also gave them the opportunity to see what it's like to work in this area as a career, which is beneficial for them in the future."
Find out about The Museum of English Rural Life or contact them via 0118 378 8660. Discover our programmes for learners with learning difficulties or disabilities or contact us on 0800 612 6008.