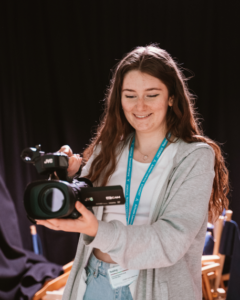 Reading College Media student, Erin Brodrick has created a fascinating 10-minute documentary for her final major project entitled 'Girls on Film'.  
The documentary focuses on gender inequality within the film industry and explains the history behind this, giving some thought-provoking facts and interesting (and at times, shocking) statistics which really bring home the wide disparity of male to female roles in Hollywood. 
Level 3 UAL Creative Media Production student, Erin, said: "When we were told we could make a documentary on anything for our final project, the topic of 'women in film' was the first idea that came to mind.  
"Two of the things I am most passionate about are film and equality, so it made sense to combine my two interests into this documentary.  
"Before making the documentary I knew that there was major gender inequality in the film industry, but I didn't know any of the facts or specifics – so I was really excited to learn more about the subject as I researched."  
Erin's ambition is to become a film maker and to join the continued push for change in the male dominated film industry.  
Erin continued: "As someone who wants to work in film one day, I think it's really useful to have an understanding of how the film industry has changed and the history of it.  
"Knowing that it was women who paved the way right at the start just shows that women absolutely deserve their places back in the industry. Learning about the history really inspired me. 
"I have really enjoyed making this documentary but what I really want to do is make narrative films.  
"My next project is to film my first short film – about all the confusion and cluelessness that comes with being a teenager." 
Erin's tutor, Soumaya Arfa, said: "Erin is an incredibly hard worker and no problem is too big or too small for her creative skills. 
"The documentary Erin created was completely her own idea and we gave her the flexibility and freedom to just go wild with it and she did, creating her own animations and developing transitions, it is a work of art. 
"We are very proud of Erin here in the Media Department at Reading and we can't wait to see what she does next. Watch this space!" 
Watch Erin's documentary here: https://lnkd.in/dZ4573J 
Discover more about  Media programmes at Reading College or contact us on 0800 612 6008.