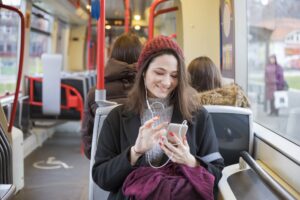 Travel bursaries are available to support students with travel costs to and from college.
To be eligible, students must live three miles or more from the nearest Activate Learning campus offering the course they are studying.
Travel Bursary Terms and Conditions 2022–2023
Support is not provided towards the cost of taxis.
Students who apply by Friday 5 August 2022, will have their pass available at the start of term. During our peak application period during August and September it can take up to four weeks to process your application and confirm if you have been awarded a bursary, so you will be responsible for any travel costs until your financial support is in place.
How will support with travel be provided?
The support provided will be by the most cost - effective method, which will either be a travel pass or travel expenses paid into your bank account.
Travel Passes
We will buy a travel pass on the student's behalf for the journey they detailed on their financial support application form or a pass for the most cost-effective method of travel.
We buy travel passes from the following travel companies:
Students who are awarded a Stagecoach South pass will be provided with a code to order their own travel pass from the company's website.
Passes are usually available for collection within three weeks of award confirmation.
Bursary awards are made from the date the bursary application was assessed; we do not backdate awards. Students are responsible for the cost of their travel until their pass arrives.
Students are sent a text message as soon as their pass is available for them to collect from the Advice Centre.
If the course is not based at an Activate Learning campus, the pass will be posted to the students place of learning.
We recommend students take a photograph of their travel pass; this is so that they will have the pass number if a replacement pass is needed.
If the pass requires photo ID it is the student's responsibility to provide and insert the photograph, the pass will not be valid for travel unless the ID photograph has been added.
We recommend passes are stored in a plastic wallet to avoid damaging the magnetic strip on the back.
Any passes not collected within two weeks will be returned to the travel company and there may be a fee for reissuing the pass.
How do I arrange for a replacement travel pass if it is lost or damaged?
What happens if I withdraw from college or complete my course early?
You must return your travel pass to the Advice Centre, a charge may be made for passes not returned.
A stop will be placed on travel smart cards so that they can no longer be used.
Travel Expenses
Students may be awarded travel expenses in the following circumstances:
It is the most cost-effective method of support.
Public transport is not available for the journey.
They have evidenced exceptional need to travel by car rather than by public transport, for example due to childcare arrangements or for health reasons. Expenses for fuel are awarded at 23p per mile for the return journey and paid by direct transfer.
We do not have a purchasing agreement with the travel company.
They are enrolled on an online course and need to attend exams on campus. payments are made in arrears. If the journey is by public transport payments are made when receipts have been provided.
The support is towards a contribution for Special Education Needs (SEN) travel provide by the Council. Students should let us know the estimated amount you will be required to pay the Council when they apply for a bursary.

SEN transport invoices need to be provided by the 25 November 2022. Funds awarded for SEN transport are paid to student's bank accounts in termly instalments, it is the responsibility of the student / parent to pay the invoice.
If I am awarded a payment, how will it be paid?
We will pay funds fortnightly in advance into the student's own bank account, (except where payment is reimbursing travel for exams). Click here to download the payment schedule.
Where students are traveling by public transport, receipts for every journey must be submitted half termly. Future travel expenses will be reduced or stopped if receipts are not provided or if funds have not been spent on travel to college.
If the student has not attended their course their next payment may be reduced or not paid. This is because funds from previous payments will not have been spent on travel to college. These previous payments are to be used towards travel costs for the next fortnight.
Students who are absent for a period of four continuous weeks or more (excluding college holidays) all future payments will be stopped until the student returns to attending their course.
Bank details
If we need to make a payment to you, we will do it by direct transfer into the student's bank account.
The European Skills Funding Agency (ESFA) does not expect bursary payments to be paid into another person's account, except in exceptional circumstances where a student is unable to administer their own account.
A basic bank account (which students can open at age 16) allows BACS transfers and allows the student to withdraw money. More information on basic bank accounts can be found at https://www.moneysavingexpert.com/banking/basic-bank-accounts/
Students must only spend any bursary payments made to them on the support that has been identified as necessary to help them take part in education.
The receipt of the 16 to 19 Bursary Fund does not affect receipt of other means tested benefits paid to families, such as IS, Jobseeker's Allowance, Child Benefit, Working Tax Credit, Housing Benefit or, generally, Universal Credit (UC). If a student is in receipt of DLA (or PIP) and ESA, parents can no longer receive certain household/family benefits for that child, such as child benefit.