Reading College welcomed local charity Freely Fruity and volunteers from Virgin Media and O2 to renovate the gardening area used by learners with learning difficulties or disabilities.
The volunteers were joined by former student, Ambassador for Freely Fruity and actor Winston Ellis, who has starred in films such as Pirates of the Caribbean: At World's End, Pirates of the Caribbean: Dead Man's Chest and The Dark Knight on Monday 17 October to tidy up the garden.
The gardening area is used by students on our supported studies programmes to help them with their gardening, wellbeing and employability skills such as teamwork.
Elle Stear, Lecturer – LLD/D at Activate Learning, contacted Freely Fruity, who plant allotments and community gardens to see if they could help. Freely Fruity then enlisted the help of 11 volunteers from Virgin Media and O2 who helped as part of one of their social corporate responsibility days.
The gardening area before
The renovations
Over the course of just a few hours, the volunteers planted six apple trees and six raised beds that included an accessible raised bed suitable for wheelchair users. They turned individual beds into one bed and moved the Hebe.
The volunteers also improved the compost heap to create better compost, fixed the shed and poly tunnel doors, raised the potting benches in the poly tunnel and made it accessible for wheelchair users.
Freely Fruity also planted 40 strawberry plants and donated lots of seeds, which the students will plant with the aim of donating the produce to a local foodbank.
What it'll mean for the students
Elle Stear, Lecturer – LLD/D at Activate Learning, said: "It is amazing to see all these volunteers who are willing to give their free time for us and help us out.
"They made the area more accessible for us by making the polytunnel accessible for students in wheelchairs and built a raised bed that students in wheelchairs can garden from a height
"The students really enjoy being in the gardening area and they get so much from helping others. It also helps them with their employability skills and teamwork.
"Once the fruit and vegetables have grown, we're then going to donate them to foodbanks, which I see as coming full circle because Freely Fruity have helped us and, in the future, we'll be able to pass it forward and help other people."
One of the students, Matthew, said: "It looks much better. I'm excited to come out here. I'm looking forward to doing the planting. Thank you to all the volunteers."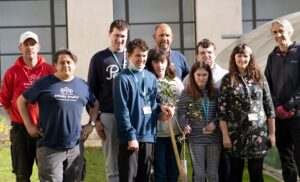 A former student gets involved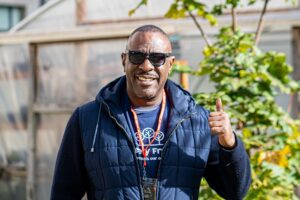 Winston Ellis, Actor and Ambassador for Freely Fruity, said: "When Ryan, James and Matt from Freely Fruity told me that they were going to be planting trees and redoing this whole garden at Reading College, I thought I had to be here because I studied Electrical Engineering at Reading College when I was working for Zenith as an apprentice doing my City & Guilds. It's crazy to be back here!
"This has been incredible and one of the things that surprised me is the number of volunteers who have turned out from Virgin Media and O2, who dedicate five days a year where they give their time up to work on projects like this and to see what they've put in, it's amazing.
"To see the polytunnel where the students will grow tropical fruits is incredible.
"I think it's fantastic that the students will be growing food to give to the local foodbank because there are so many people who are struggling because the cost of living has gone through the roof, so to grow stuff and give to people who are in need is just what we need now."
A great day at Reading College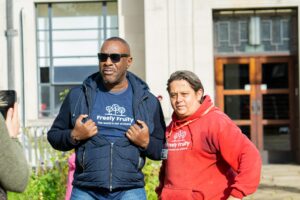 Ryan from Freely Fruity said: "Feeling Fruity is all about helping people, that's why our strapline is the world is our orchard and setting up community gardens for people to grow their own food and learn about growing their own food and we've loved working at Reading College.
"We've got volunteers from Virgin Media and O2 who are donating their time for their corporate social responsibility day. That helps our charity too, we got paid £50 per person today which goes towards the materials donated. Roughly as a charity this is costing us £1500. We all work full-time, we've all taken days off today and given a lot of free time to make this happen."
Find out about our Foundation and Supported Studies courses or contact us on 0800 612 6008.